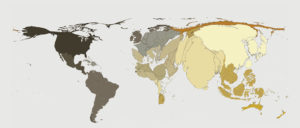 Territory size shows the proportion of people worldwide enrolled in tertiary education, who live there.
Graphic revision: Office Milano. Image: Worldmapper, © Copyright SASI Group (University of Sheffield) and Mark Newman (University of Michigan).
IMPLEMENTED ACTIVITIES
Fondazione Edu is committed to promoting training and research and analysis on issues related to tertiary education and socio-economic innovations in Africa.
2018
A manual for tertiary education institutions entitled "Neglected and Underutilized Species for improved food security and resilience to climate change. A Contextualized Learning Manual for African Colleges and Universities" promoted by Fondazione Edu has been realized by ANAFE – the African Network for Agriculture, Agroforestry and Natural Resources based in Nairobi, Kenya and edited by Wilson Kasolo, George Chemining'wa and August Temu..
2016
A research entitled "Higher Education and Labour Market Situation in Ghana. A case study on relationship between Academia, Industry and Governmental Policy" has been promoted by Fondazione Edu and carried out by CDD Ghana – Center for Democratic Development, a think tank based in Accra, Ghana. The results have been presented on April 2016 during a dissemination workshop held in Accra with academics and representatives from both public and private sectors..
2015
On June 2nd 2015 in Nampula, Mozambique, Fondazione Edu promoted a public conference on tertiary education in Mozambico, with Martins Vilanculos Laita (Universidade Católica de Moçambique), Aurelio Machado (Universidade Pedagogica, Nampula) and Brazao Mazula (Universidade Mondlane) as key-note speakers.
2013
A research on "Supporting tertiary education, enhancing economic development. Strategies for effective higher education funding in Sub-Saharian Africa", promoted by Fondazione Edu and carried out by ISPI – Istituto di Politica Internazionale has been presented in Milan on May 6th 2013.